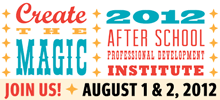 [1]On August 1 & 2 CSU, Chico will welcome regional area educators at the After School 2012 Create The Magic Professional Development Institute. This is an opportunity for north state after school professionals to network, attend engaging workshops and training sessions, and gain skills to help them excel in their profession.
Presenters will share best practices-based teaching strategies developed in national programs, teach hands-on activities that after school staff can use in their own programs, and provide ways to find the crossroads of fun and informative programs for kids. The institute is known for its lively presentations and workshops.



The conference will be open with motivational speaker, Doug Luffborough, educational consultant who is described as an "over-comer" and his tale of inspiration and hope for the American dream. "Homeless To Harvard" draws on the magic of his ambition to become the first member of his family to attend college.

The keynote speaker is Michael Funk, director of the newly established After School Division for the California Department of Education. Prior to this he was the Founder and Executive Director of the Sunset Neighborhood Beacon Center in San Francisco, which is regarded as a national model for offering community and after school programming rooted in youth development and is known for its innovative use of community media production and the integration of technology.

Gloria Halley, Regional Lead with Butte County Office of Education, Learning Support Region 2, says that the annual After School Professional Development Institute is "key to maintaining and developing new relationships with after school professionals so that every child receives the very best." It also recognizes "Unsung Heroes" working and supporting programs and students day after day with an unshakeable belief that every child deserves the very best education and life possible.

For additional information visit the After School 2012 website. [2]