Where Will Your Education Take You?
Passport to Learning offers CSU, Chico students, as well as students from other universities, the opportunity to travel and learn in unique, short term, faculty-led study abroad programs offered during winter and summer. Developed by dedicated faculty and designed to enhance your educational experience, these programs are exciting ways to experience the language, culture, and people of the host country while earning credit toward your degree. Get ready to discover your Passport to Learning!
Study Abroad Programs ~ Summer 2018
Art
&

Culture ~ Mexico
Experience visual arts of Mexico in person, often in the original locations where these works were displayed or created. Dr. Matthew Looper, Professor of Art History, will guide you through a full immersion into Mexico's vibrant culture and art history – including visits to world-renowned museums, archaeological sites, and the oldest cities in the Americas.
[ Learn More [1] ]
Bilingualism and Culture: Exploring Quebec
Neighboring Canada offers so much interesting insight into how bilingualism works. Both Montreal and Quebec City present opportunities to experience daily life in a multilingual community. Explore the history of this fascinating area, and enjoy the rich culture eastern Canada has to offer. [ Learn More [2] ]
Cross-Cultural Exploration ~ Nepal
The ancient capital of Kathmandu, in the center of Nepal, is in a region of diverse cultures at the edge of the highest mountains in the world. Study and travel for five weeks in north-central Nepal in a collaborative program with Nepali university students.
[ Learn More [3] ]
History
&

Humanities ~ London

&

York
This one-month program introduces students to the arts, ideas, and history of Britain and Europe by visiting cultural sites across London with excursions across England. You will learn the history of Europe from the Renaissance through the Napoleonic Wars by visiting a range of cultural sites and museums in and around London and Yorkshire.
[ Learn More [4] ]
Tourism Promotion in the Nordic Countries ~ Sweden
&

Finland
What better way to learn about marketing and promotion in tourism, hospitality, and leisure industry than with a hands-on experience? You will learn about promotion, marketing, and sales from experts in the fields of destination marketing, theme parks, hotels, museums, and tourist attractions. [ Learn More [5] ]
Take a look at the feature article [6] in Inside Chico State!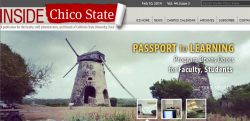 [6]
Faculty: How To Set Up a Program
For more information please contact Elaina McReynolds, Special Session & Extension Program Director at memcreynolds@csuchico.edu [15]or 530-898-5681.