About the Osher Lifelong Learning Institute (OLLI) at CSU, Chico
Are you looking for something interesting to do? Do you want to meet new people while you have fun learning?

Osher Lifelong Learning Institute (OLLI) at CSU, Chico is an educational program for lifelong learners age 50 and better who are eager to explore traditional and new areas of knowledge – without exams or grades. Distinguished Chico State faculty members, retired teachers, and members simply passionate about a subject they know well enjoy sharing their expertise with members whose life experience and intelligence enrich the exchange of ideas. With locations in Chico, Oroville, Paradise, and Willows, OLLI offers a unique way to explore new topics, discuss current events, make new friends, and take day trips to theaters, gardens, and museums.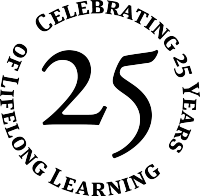 For 25 years, lifelong learners have joined together at CSU, Chico to enjoy a wide range of intellectual, cultural, social, and recreational activities. Our more than 1,100 members have the opportunity to join in any of our more than 110 peer-led courses on a wide-variety of subjects, seminar series, and seasonal social events. It is a unique way for you to explore new topics, discuss current events, and network with community members.
A Message from Our Director
Dear OLLI Members & Friends,
People often share with me how OLLI at CSU, Chico profoundly changed them, how their classes and out-of-classroom experiences taught them to see themselves and the world differently, and how this program has helped them build lasting friendships. OLLI staff and volunteer leaders work hard to deliver the kinds of programming and events that enhance members' experiences and help build value. It involves behind-the-scenes number crunching, planning, outreach, and research that occur regularly in meeting rooms, at members' homes, or over coffee at Beatnik's.
In my 2016-17 Director's Report I am delighted to share some successes that these efforts make possible and I encourage you to take a few minutes to read the report. None of this would be possible without member continued support and engagement, so thank you for helping us expand lifelong learning opportunities in Chico and surrounding communities, and may this report help you feel more informed and connected to the process.
Warmly,
Ann Nikolai
Osher Lifelong Learning Institute

The Bernard Osher Foundation was established in 1977 by Bernard Osher, a San Francisco businessman and community leader, who perceived that the needs of mature students were not well served by traditional continuing education programs. The Foundation supports the strengthening of existing lifelong learning programs, as well as the creation of new ones, at colleges and universities across the country. The Foundation began its support of such programs in 2001 with grants to Sonoma State University in California and the University of Southern Maine at Portland.

In 2005, CSU, Chico joined the network of Osher Lifelong Learning Institutes and our existing learning-in-retirement program became known as the Osher Lifelong Learning Institute at California State University, Chico. In 2007, the foundation awarded OLLI at CSU, Chico a $1 million endowment gift for programming excellence and for demonstrating potential for longterm success and sustainability, and a second $1 million endowment gift was awarded in December 2014.
Quick Facts
Eligibility for membership: 50+ years old or retired.
Spouses of members may be of any age.
Full Membership (Academic Year): $165
Number of current members: 1,200+
Our Advisory Council
&

Staff
General Chair


Mike McCluskey


Curriculum Co-Chairs


Mary Brashears & Sydney Wilde

Communications Chair


Martha Roggli

Membership Chair


Gayle Womack

Facilities Chair
William Tefteller

Scholarship & Fundraising Co-Chairs


Paul Moore & Russ Melquist

Program Director

Ann Nikolai
Phone: 898-5858

Community Outreach Coordinator

Gayle Womack
Operational Coordinator
Michele Desmond
Phone: 898-4251

Member Services Representative


Susan Levine
Phone: 898-6679

Bookkeeper
Pam Camara
Phone: 898-3362
OLLI

Operating Policies, Procedures

&

Budgets
About the University

Established in 1887 as a California Normal School for Teachers, CSU, Chico is the second oldest California State University. Chico State serves a twelve county region of 33,000 square miles, equivalent in size to the state of Ohio. As an anchor institution in this rural region, CSU, Chico has a long tradition of reaching out to our varied populace to expand cultural, economic, and educational opportunities.
The University serves nearly 17,000 students. A residential campus located in a true college town, it attracts students from all parts of California. In its yearly ranking of "America's Best Colleges," U. S. News and World Report ranks Chico number three among master's-level public universities in the Western United States.
Office Hours and Location
Aymer J. Hamilton Building
Room 118B, on the CSU, Chico campus
(adjacent to the Bidwell Mansion)

Office Hours: Monday–Thursday, 9am–1pm
Phone: 530-898-6679

Email: olli@csuchico.edu