Osher Lifelong Learning Institute (OLLI) at CSU, Chico

Happy Holidays!
The OLLI office will be closed December 22–January 1. We look forward to sharing another year filled with learning, inspiration and fun!
Make the Holidays Jolly with a Gift of
OLLI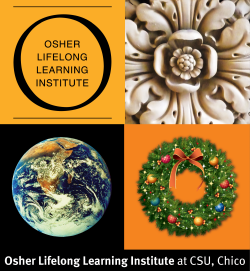 Stumped for the perfect gift for the person who has everything, or the person who is just plain hard to shop for? Consider a gift certificate for a membership in OLLI at CSU, Chico! To purchase a gift certificate in any amount, please download and mail an order form or call the OLLI office today at 530-898-6679.
Spring Class Schedule is Now Online!

Wow! We have more than 130 classes lining up for the spring term and can't wait to unveil the schedule. We have some perennial favorites, as well as some new peer leaders and classes that are sure to be hits. In addition to browsing our online schedule, you can also download all of the schedule and membership information here:
• Spring Packet: Schedule, Calendar, Membership & Class Registration Forms [pdf]
• Spring Packet with Class Descriptions [ pdf ]
Join
OLLI

or Renew Your Membership for Spring
Membership is required to participate in OLLI classes, activities, and events. If you're new to OLLI, you can get started by signing up and paying fees either online or with our mailable form.
• Spring Packet: Schedule, Calendar, Membership & Class Registration Forms [pdf]
Membership options:
Chico Chapter Spring & Summer '18 Membership Bundle: $135
• Spring Term Only: $85


• Summer Term Only: $60
Greater Butte County Chapter Spring '18 Only Membership: $45
Returning members can renew your membership online or call 530-898-6679. You can also download and mail in a membership form. Don't remember or don't have your ID number handy? No worries! Just click the "ID Lookup" button when you log in to register for classes.

Not sure whether you've paid spring fees? Call the OLLI office at 530-898-6679 to confirm. You need to pay for the spring term before you can register for classes.
Your Brain ~ Thinking
&

Feeling Modes
Wintersession 2018 Lecture Series Featuring Dr. Joni Samples
In this four-session series, we'll look at how early conditioning shapes our habits and how these habits make it difficult to change and stay positive. We'll explore how resistance to change is connected to our desire to be safe and to survive, and how our feelings mirror this primal impulse. In our final meeting, you'll discover ways to detach from some of the thoughts that drive you, and we'll explore new ways of thinking to help you stay positive and feel good. For individual session descriptions and a special invitation from Dr. Joni, take a look at our flyer!

4 Workshops: Wednesdays, January 3, 10, 17 & 24

When & Where: 1–2:30pm | Bradley 2, Craig Student Living

Fee: $10 per session or $35 for the series of 4

Registration: Register online if you wish to pay by credit card, or download the registration form and mail to the OLLI office. You can also pay at the door for any workshop(s) you attend.
A Brighter
OLLI

Is an Engaged

OLLI

!
OLLI

serves a vibrant community of adults over 50 who are generally well-educated, active, engaged in life, and have disposable income. The generous gifts of our business sponsors support the cognitive and social benefits of

OLLI

, help us deliver excellent programming, and enable us to offer fee assistance to members who couldn't otherwise afford to participate. Thank you to our Business Sponsors!
Meet Your Match!

Volunteers are the backbone of OLLI at CSU, Chico. They provide instruction, communications, technical support, outreach, and help us make important social connections. Without volunteer support, OLLI Chico could not provide the array of lifelong learning experiences members enjoy year-round. The Volunteer Connections Program is designed to keep OLLI programming sustainable by expanding volunteer participation. Learning more about you—your skills and interests—will help us connect you to areas of need within the organization. Email us if you'd like to Connect Today.