North State Initiative Task Force
Final Report
&

Recommendations

The North State Initiative Task Force is pleased to present its final recommendations for consideration and adoption. We began in the spring of 2012 with an ambitious timeline for producing our first deliverable, a regional inventory of engagements/activities from faculty, staff, and students. We continued with a detailed work plan to carry out our preliminary recommendations submitted in August 2012 to fulfill the goals of both the "inside looking in" and the "outside looking in." With the approval of the Cabinet, the accomplishment of these interconnected recommendations from October 2012 through March 2013 has formed the core of the Task Force's work and informed this final report. We are pleased to present an overview of our accomplishments, summarize our findings, and present our final recommendations to conclude our work as a Task Force. The Appendices included in this report are purposely extensive in order to provide a comprehensive understanding of the work performed and to serve as a potential model for future North State engagement efforts.

Click report cover to read online.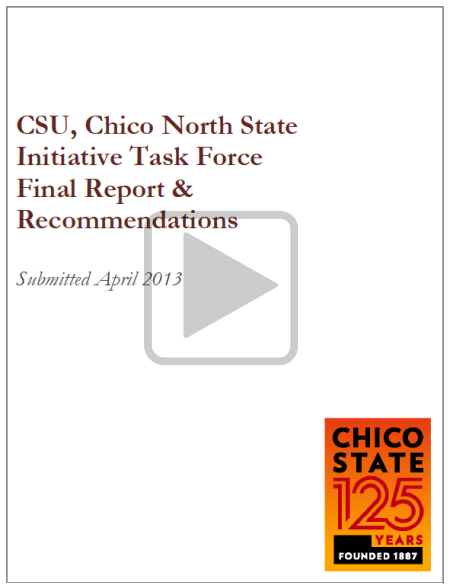 Download a pdf version of the report.
Launch of North State Initiative Website
California State University, Chico has launched its North State Initiative website that displays campus activities connecting the University with residents of its service area. The website address is www.csuchico.edu/northstate. The North State Initiative website portrays, by county, the many links that reinforce the University's regional role. CSU, Chico serves the largest area of any California State University campus: 12 counties, 32,000 square miles and about 21 percent of the state, much of it rural. Read more…