Preliminary Administrative Services Credential - PASC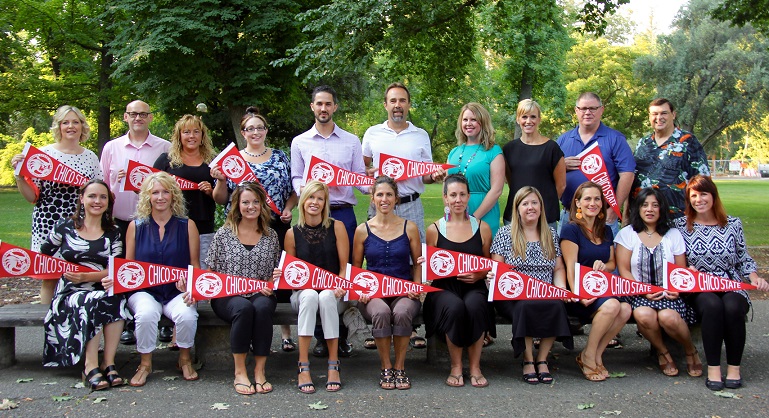 2016-2017 Chico State PASC cohort
Professional Education for Future Public School Administrators

California State University, Chico, School of Education offers a post baccalaureate Preliminary Administrative Services Credential (PASC) for education professionals seeking a career as a public school administrator.

The Preliminary Administrative Services Credential provides the foundations of educational leadership necessary to qualify for a Clear California Administrative Services Credential granted through the California Commission on Teacher Credentialing (CTC).

With the preliminary administrative credential you can serve as an assistant superintendent, principal, assistant principal, supervisor, coordinator, or other equivalent level administrator in California public schools.
Chico State

PASC
Accelerated, 1 year, 4 six-unit courses, 24 total units

Per unit fee is $325

Updated curriculum, meets new California standards

Conveniently scheduled hybrid program (face-to-face with online components)

Courses offered Tuesday & Thursday during the summer and Saturdays during the school year

Start to work as an administrator through the internship credential option

Applied California Leadership Domains integrated in each course
To Apply
Apply today by contacting the Chico State PASC Program Coordinator, Rick Stout, 530-228-6357.
PASC Application: http://www.csuchico.edu/soe/documents/Preliminary_Admin_Credential_Application.pdf

The next application deadline is June 1, 2017 (late applications may be considered on a space available basis).

Join Us! Upcoming Information/Orientation Sessions

If you are interested please make a point to call or email Rick Stout, 530-228-6357, rgstout@csuchico.edu, and plan to attend one of these important meetings:

Monday- April, 10 - 6:30-7:30pm
Thursday - April, 13 - 5:00-6:30pm
Saturday - April, 15 - 11:00am-1:00pm
Monday - April, 17 - 5:00-6:30pm
Thursday - April 20 - 5:00-6:30pm
Saturday - April 22 - 11:00am-1:00pm
Location: Chico State campus, Tehama Hall 105.

PASC

Course Schedule

&

Registration

Summer 2017 - Cohort 2 (2017 Admits) Registration Now Open
EDAD 631 – Educational Leadership: The Literature - 6 units
On Campus Meeting Dates: 7/6, 7/11, 7/13, 7/18, 7/20, 7/25, 7/27
Class Starts 7/6/2017 and Ends 7/27/2017
Fall 2017
EDAD 632 – Educational Leadership: Current Conditions - 6 units
On Campus Meeting Dates: 8/26/2017, 9/9, 9/30, 10/14, 10/28, 11/11, 12/2
Class Starts 8/26/2017 and Ends 12/2/2017
Spring 2018

EDAD 633 – Educational Leadership: What Schools Can Be - 6 units
On Campus Meeting Dates: 1/27/2018, 2/24, 3/10, 3/24, 4/7, 4/28, 5/12
Class Starts 1/27/2018 and Ends 5/12/2018
Summer 2017 - Cohort 1 (2016 Admits) Registration begins 4/3

EDAD 634: Educational Leadership: The First 100 Days - 6 units
On Campus Meeting Dates: 6/3/2017, 6/10, 6/17, 6/19, 6/21, 6/23, 6/29
Class Starts 6/3/2017 and Ends 6/29/2017(mixed days, Mon, Wed, Fri & Sats)
Registration Request Link (registration begins April 3)
Student Resource links

Special Session add/drop policy and general information

School of Education